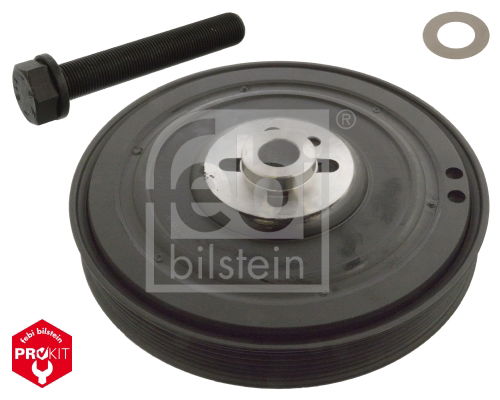 Poulie, vilebrequin FEBI BILSTEIN 106526
Ref:
106526
[106526] FEBI BILSTEIN Poulie, vilebrequin
FEBI BILSTEIN

Shipped within 24 to 48 hours
---
Width [mm] : 37,5
Inner Diameter [mm] : 18,0
Outer diameter [mm] : 192,5
Weight [kg] : 4,90
Number of ribs : 6
Informations générales : découplée, pour vilebrequin avec vis et rondelle
Informations générales : Les produits livrés par nos soins doivent être utilisés exclusivement à des fins pour lesquelles ils ont été con us. Le montage est réservé à un personnel qualifié formé. Les produits sont livrés en standard sans instructions de montage.
AUDI

100 (4A2, C4)

2.5 TDI

AUDI

100 Avant (4A5, C4)

2.5 TDI

AUDI

A6 (4A2, C4)

2.5 TDI

AUDI

A6 (4A2, C4)

2.5 TDI

AUDI

A6 (4A2, C4)

2.5 TDI quattro

AUDI

A6 Avant (4A5, C4)

2.5 TDI

AUDI

A6 Avant (4A5, C4)

2.5 TDI

AUDI

A6 Avant (4A5, C4)

2.5 TDI quattro

VOLVO

S70 (874)

2.5 TDI

VOLVO

S70 (874)

2.5 TDi AWD

VOLVO

S80 I (184)

2.5 TDI

VOLVO

V70 I (875, 876)

2.5 TDI

VOLVO

V70 I (875, 876)

2.5 TDi AWD

VW

CRAFTER 30-35 Bus (2E_)

2.5 TDI

VW

CRAFTER 30-35 Bus (2E_)

2.5 TDI

VW

CRAFTER 30-35 Bus (2E_)

2.5 TDI

VW

CRAFTER 30-35 Bus (2E_)

2.5 TDI

VW

CRAFTER 30-50 Box (2E_)

2.5 TDI

VW

CRAFTER 30-50 Box (2E_)

2.5 TDI

VW

CRAFTER 30-50 Box (2E_)

2.5 TDI

VW

CRAFTER 30-50 Box (2E_)

2.5 TDI

VW

CRAFTER 30-50 Flatbed / Chassis (2F_)

2.5 TDI

VW

CRAFTER 30-50 Flatbed / Chassis (2F_)

2.5 TDI

VW

CRAFTER 30-50 Flatbed / Chassis (2F_)

2.5 TDI

VW

CRAFTER 30-50 Flatbed / Chassis (2F_)

2.5 TDI

VW

LT 28-46 II Box (2DA, 2DD, 2DH)

2.5 TDI

VW

LT 28-46 II Box (2DA, 2DD, 2DH)

2.5 TDI

VW

LT 28-46 II Box (2DA, 2DD, 2DH)

2.5 TDI

VW

LT 28-46 II Flatbed / Chassis (2DC, 2DF, 2DG, 2DL, 2DM)

2.5 TDI

VW

LT 28-46 II Flatbed / Chassis (2DC, 2DF, 2DG, 2DL, 2DM)

2.5 TDI

VW

LT 28-46 II Flatbed / Chassis (2DC, 2DF, 2DG, 2DL, 2DM)

2.5 TDI

VW

TRANSPORTER IV Bus (70B, 70C, 7DB, 7DK, 70J, 70K, 7DC, 7DJ)

2.4 D Syncro

VW

TRANSPORTER IV Box (70A, 70H, 7DA, 7DH)

2.5 TDI

VW

TRANSPORTER IV Box (70A, 70H, 7DA, 7DH)

2.5 TDI

VW

TRANSPORTER IV Box (70A, 70H, 7DA, 7DH)

2.5 TDI

VW

TRANSPORTER IV Box (70A, 70H, 7DA, 7DH)

2.5 TDI Syncro

VW

TRANSPORTER IV Flatbed / Chassis (70E, 70L, 70M, 7DE, 7DL, 7

2.4 D

VW

TRANSPORTER IV Flatbed / Chassis (70E, 70L, 70M, 7DE, 7DL, 7

2.4 D

VW

TRANSPORTER IV Flatbed / Chassis (70E, 70L, 70M, 7DE, 7DL, 7

2.5 TDI

VW

TRANSPORTER IV Flatbed / Chassis (70E, 70L, 70M, 7DE, 7DL, 7

2.5 TDI

VW

TRANSPORTER IV Flatbed / Chassis (70E, 70L, 70M, 7DE, 7DL, 7

2.5 TDI Syncro

VW

TRANSPORTER IV Bus (70B, 70C, 7DB, 7DK, 70J, 70K, 7DC, 7DJ)

2.5 TDI

VW

TRANSPORTER IV Bus (70B, 70C, 7DB, 7DK, 70J, 70K, 7DC, 7DJ)

2.5 TDI

VW

TRANSPORTER IV Bus (70B, 70C, 7DB, 7DK, 70J, 70K, 7DC, 7DJ)

2.4 D

VW

TRANSPORTER IV Bus (70B, 70C, 7DB, 7DK, 70J, 70K, 7DC, 7DJ)

2.4 D

VW

TRANSPORTER IV Bus (70B, 70C, 7DB, 7DK, 70J, 70K, 7DC, 7DJ)

2.5 TDI

VW

TRANSPORTER IV Bus (70B, 70C, 7DB, 7DK, 70J, 70K, 7DC, 7DJ)

2.5 TDI Syncro

VW

TRANSPORTER IV Box (70A, 70H, 7DA, 7DH)

2.4 D

VW

LT 28-35 II Bus (2DB, 2DE, 2DK)

2.5 TDI

VW

LT 28-35 II Bus (2DB, 2DE, 2DK)

2.5 TDI

VW

LT 28-35 II Bus (2DB, 2DE, 2DK)

2.5 TDI
AUDI : 074 105 251 AC, 074 105 251 AC S2, 074 105 251 M, 074 105 251 M S1, 074 105 251 N, 074 105 251 N S1, 074 105 251 R, 074 105 251 R S1, 074 105 251 T, 074 105 251 T S1, 46105251L, 46105251L S1, 46105251M, 46105251M S1, 74105021C, 74105021C S1, 74105251R, 74105251R S1, 74105251S, 74105251S S1
VW : 026 103 051 A, 026 103 051 A S1, 049 103 051 C, 049 103 051 C S1, 052 103 051 A, 052 103 051 A S1, 056 103 051 D, 056 103 051 D S1, 068 103 051 A, 068 103 051 A S1, 068 103 051 B, 068 103 051 B S1, 068 103 051 G, 068 103 051 G S1, 074 105 251 AC, 074 105 251 AC S2, 074 105 251 M, 074 105 251 M S1
3RG : 10706
AJUSA : 15037900
AKRON-MALÒ : 11634PRSF, 11634PRSS, 658019, 658019BER, 918PRSF
ASAM : 80284
AUTEX : 658071, 658377
AUTLOG : KK4001, RT1542, RT1845
AUTOKIT : 03.90006
AUTOMEGA : 130041610
AUTOTEAM : A06120, A07008
BBR Automotive : 001-10-22970, 002-30-01080
BGA : DP2976, DP2976K, OS3328
BREDA LORETT : PSD1025A/ND
BSG : BSG 90-170-001
BTA : E6A0001BTA
CALIBER : 87289, 87659
CAUTEX : 460958
CONTINENTAL CTAM : VD1002
CORTECO : 80001157, 80004398
CPB : 501081
DA SILVA : PL8266
DAYCO : DPV1077
DT Spare Parts : 11.11051, 11.12092
DÜRER : 88504
ELRING : 342.093
ELWIS ROYAL : 8455524
ET ENGINETEAM : PC0014
FAI AutoParts : FVD1000, OS620, OS716, OS870
FARE SA : 2563
GATES : TVD1033A
GOETZE : 50-319478-00
GUARNITAUTO : 991123-8300, 993057-8300
HUTCHINSON : DP045
IJS GROUP : 17-1029KIT A, 17-1029KIT B
INA : 413 0094 10, 544 0002 10, 544 0002 20
IPD : 15-7066, 15-7372
JP GROUP : 1118302100, 1119500500
KAMOKA : RW009
KM International : FI15300, FI17520
KRAFT AUTOMOTIVE : 1150020, 1150253
LEMFÖRDER : 26066 01
LUCAS : LPD0015
MABYPARTS : ODP313020, PV93093O
MAHLE : JV567
MAXGEAR : 30-0050, 30-0113
Metalcaucho : 04176, 14176
MGA : DP125
NTY : RKP-VW-002
OPTIMAL : F8-5202, F8-5202K1
ORIGINAL IMPERIUM : 10267, 10267K
OSSCA : 00559, 06406
PATRON : PP1001
PAYEN : NF857
PREXAparts : P125001
PROCODIS FRANCE : BED026
QUINTON HAZELL : QCD18
REPKIT : RKT9006
RIDEX : 3213B0005
RUVILLE : 295406, 515400
SASIC : 9001807
SKF : VKM 93107
SNR : DPF357.06
Stark : SKBPC-0640004
STC : T404176, T414176
STELLOX : 20-01000-SX, 34-00010-SX, 34-00072-SX, 34-00207-SX, 81-01031-SX
SWAG : 30 10 6526
TOPRAN : 109 798
TRADEX FRANCE : PV12101
TREVI AUTOMOTIVE : PC1011
TRICLO : 423303
TRUCKTEC AUTOMOTIVE : 07.10.008, 07.11.030
UNIGOM : 421829, 421829D, 421829K
VAICO : V10-1554, V10-3919, V10-3921
WILMINK GROUP : WG1054552, WG1054618, WG1084280, WG1086452, WG1090832, WG1152549, WG1153500, WG1153512, WG1153515, WG1153518, WG1153528, WG1153529, WG1163240, WG1223028, WG1223397, WG1233903, WG1254330, WG1428374, WG1428850, WG1429095, WG1701452, WG1737656, WG1760987, WG1760988, WG1780126, WG1821139, WG1932850, WG1938572
If you can't find the part you need, please contact us at +33 1 41 50 53 73
Exclusive Web Offer
* This reference is given as an indication (subject to validation with the serial number and the manufacturer software)