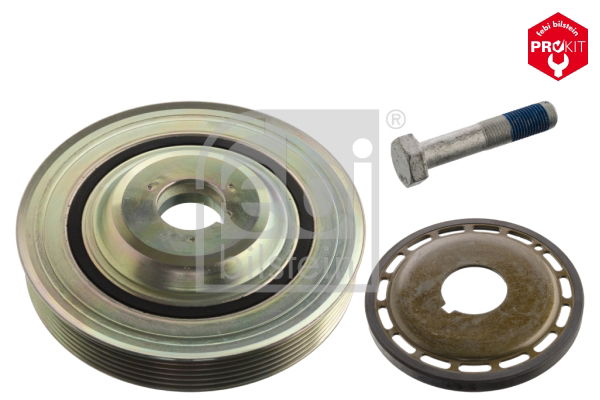 Poulie, vilebrequin FEBI BILSTEIN 106476
Ref:
106476
[106476] FEBI BILSTEIN Poulie, vilebrequin
FEBI BILSTEIN

Shipped within 24 to 48 hours
---
Width [mm] : 26,0
Inner Diameter [mm] : 30,0
Outer diameter [mm] : 153,0
Weight [kg] : 1,67
Number of ribs : 6
Informations générales : découplé, pour vilebrequin avec induit et vis
Informations générales : Les produits livrés par nos soins doivent être utilisés exclusivement à des fins pour lesquelles ils ont été con us. Le montage est réservé à un personnel qualifié formé. Les produits sont livrés en standard sans instructions de montage.
CITROËN

C4 Coupe (LA_)

2.0 HDi

CITROËN

C4 Coupe (LA_)

2.0 HDi

CITROËN

C4 Grand Picasso I (UA_)

2.0 HDi 138

CITROËN

C4 Grand Picasso I (UA_)

2.0 HDi 150

CITROËN

C4 Grand Picasso I (UA_)

2.0 HDi 165

CITROËN

C4 I Saloon

2.0 HDi

CITROËN

C4 I van/hatchback (LR_)

2.0 HDi

CITROËN

C4 II (B7)

2.0 HDi / BlueHDi 150

CITROËN

C4 I (LC_)

2.0 HDi

CITROËN

C4 I (LC_)

2.0 HDi

CITROËN

C4 Picasso I MPV (UD_)

2.0 HDi 138

CITROËN

C4 Picasso I MPV (UD_)

2.0 HDi 150

CITROËN

C4 Picasso I MPV (UD_)

2.0 HDi 165

CITROËN

C5 Box Body / Estate (DE_, RE_)

2.0 HDi

CITROËN

C5 III Break (RW_)

2.0 HDi

CITROËN

C5 III Break (RW_)

2.0 HDi 140

CITROËN

C5 III Break (RW_)

2.0 HDi 150 / BlueHDi 150

CITROËN

C5 III Break (RW_)

2.0 HDi 165

CITROËN

C5 III (RD_)

2.0 HDi

CITROËN

C5 III (RD_)

2.0 HDi

CITROËN

C5 III (RD_)

2.0 HDi 140

CITROËN

C5 III (RD_)

2.0 HDi 150 / BlueHDi 150

CITROËN

C5 III (RD_)

2.0 HDi 165

CITROËN

C5 II (RC_)

2.0 HDi (RCRHRH)

CITROËN

C8 (EA_, EB_)

2.0 HDi

CITROËN

C8 (EA_, EB_)

2.0 HDi 135

CITROËN

C8 (EA_, EB_)

2.0 HDi 165

DS

DS 5

2.0 HDi 165

DS

DS 5

2.0 Hybrid4 4x4

FORD

C-MAX (DM2)

2.0 TDCi

FORD

C-MAX (DM2)

2.0 TDCi

FORD

C-MAX (DM2)

2.0 TDCi

FORD

C-MAX II (DXA/CB7, DXA/CEU)

2.0 TDCi

FORD

C-MAX II (DXA/CB7, DXA/CEU)

2.0 TDCi

FORD

C-MAX II (DXA/CB7, DXA/CEU)

2.0 TDCi

FORD

C-MAX II (DXA/CB7, DXA/CEU)

2.0 TDCi

FORD

C-MAX II Van

2.0 TDCi

FORD

C-MAX II Van

2.0 TDCi

FORD

C-MAX II Van

2.0 TDCi

FORD

FOCUS C-MAX (DM2)

2.0 TDCi

FORD

FOCUS C-MAX (DM2)

2.0 TDCi

FORD

FOCUS II Saloon (DB_, FCH, DH)

2.0 TDCi

FORD

FOCUS II Saloon (DB_, FCH, DH)

2.0 TDCi

FORD

FOCUS II (DA_, HCP, DP)

2.0 TDCi

FORD

FOCUS II (DA_, HCP, DP)

2.0 TDCi

FORD

FOCUS III

2.0 TDCi

FORD

FOCUS III

2.0 TDCi

FORD

FOCUS III

2.0 TDCi

FORD

FOCUS III

2.0 TDCi

FORD

FOCUS III

2.0 TDCi

FORD

FOCUS III

2.0 TDCi ST

FORD

FOCUS III Saloon

2.0 TDCi

FORD

FOCUS III Saloon

2.0 TDCi

FORD

FOCUS III Saloon

2.0 TDCi

FORD

FOCUS III Saloon

2.0 TDCi

FORD

FOCUS III Saloon

2.0 TDCi

FORD

FOCUS III van/hatchback

2.0 TDCi

FORD

FOCUS III van/hatchback

2.0 TDCi

FORD

FOCUS III van/hatchback

2.0 TDCi

FORD

FOCUS III van/hatchback

2.0 TDCi

FORD

FOCUS III Box Body / Estate

2.0 TDCi

FORD

FOCUS III Turnier

2.0 TDCi

FORD

FOCUS III Turnier

2.0 TDCi ST

FORD

FOCUS II Turnier (DA_, FFS, DS)

2.0 TDCi

FORD

FOCUS II Turnier (DA_, FFS, DS)

2.0 TDCi

FORD

FOCUS II Turnier (DA_, FFS, DS)

2.0 TDCi

FORD

MONDEO IV Saloon (BA7)

2.0 TDCi

FORD

MONDEO IV Saloon (BA7)

2.0 TDCi

FORD

MONDEO IV Saloon (BA7)

2.0 TDCi

FORD

MONDEO IV Saloon (BA7)

2.0 TDCi

FORD

MONDEO IV Saloon (BA7)

2.0 TDCi

FORD

MONDEO IV (BA7)

2.0 TDCi

FORD

MONDEO IV (BA7)

2.0 TDCi

FORD

MONDEO IV (BA7)

2.0 TDCi

FORD

MONDEO IV (BA7)

2.0 TDCi

FORD

MONDEO IV Turnier (BA7)

2.0 TDCi

FORD

MONDEO IV Turnier (BA7)

2.0 TDCi

FORD

MONDEO IV Turnier (BA7)

2.0 TDCi

FORD

MONDEO IV Turnier (BA7)

2.0 TDCi

FORD

MONDEO IV Turnier (BA7)

2.0 TDCi

FORD

MONDEO IV Van

2.0 TDCi

FORD

MONDEO IV Van

2.0 TDCi

FORD

MONDEO IV Van

2.0 TDCi

FORD

S-MAX (WA6)

2.0 TDCi

FORD

S-MAX (WA6)

2.0 TDCi

FORD

S-MAX (WA6)

2.0 TDCi

FORD

S-MAX (WA6)

2.0 TDCi

FORD AUSTRALIA

FOCUS Hatchback (LT)

2.0 TDCi

FORD AUSTRALIA

FOCUS Hatchback (LV)

2.0 TDCi

FORD AUSTRALIA

FOCUS Saloon (LV)

2.0 TDCi

FORD AUSTRALIA

MONDEO Estate (MB, MC)

2.0 TDCi

PEUGEOT

3008 MPV (0U_)

2.0 HDi

PEUGEOT

3008 MPV (0U_)

2.0 HDi

PEUGEOT

3008 MPV (0U_)

2.0 HDi 150 / BlueHDi 150

PEUGEOT

3008 MPV (0U_)

2.0 HDi Hybrid4

PEUGEOT

307 (3A/C)

2.0 HDi 135

PEUGEOT

307 CC (3B)

2.0 HDi 135

PEUGEOT

307 SW (3H)

2.0 HDi 135

PEUGEOT

307 SW Box Body / Estate (3E_, 3H_)

2.0 HDi

PEUGEOT

308 CC (4B_)

2.0 HDi

PEUGEOT

308 CC (4B_)

2.0 HDi

PEUGEOT

308 CC (4B_)

2.0 HDi

PEUGEOT

308 I (4A_, 4C_)

2.0 HDi

PEUGEOT

308 I (4A_, 4C_)

2.0 HDi

PEUGEOT

308 I (4A_, 4C_)

2.0 HDi

PEUGEOT

308 SW I Box Body / Estate (4E_)

2.0 HDi

PEUGEOT

508 I (8D_)

2.0 HDi

PEUGEOT

508 I (8D_)

2.0 HDi

PEUGEOT

508 I (8D_)

2.0 HDi

PEUGEOT

508 I (8D_)

2.0 HDi Hybrid4 AWC

PEUGEOT

508 SW I (8E_)

2.0 HDi

PEUGEOT

508 SW I (8E_)

2.0 HDi

PEUGEOT

508 SW I (8E_)

2.0 HDi

PEUGEOT

508 SW I (8E_)

2.0 HDi RXH Hybrid4

PEUGEOT

EXPERT Box (VF3A_, VF3U_, VF3X_)

2.0 HDi 120

PEUGEOT

EXPERT Box (VF3A_, VF3U_, VF3X_)

2.0 HDi 120 4x4

PEUGEOT

EXPERT Box (VF3A_, VF3U_, VF3X_)

2.0 HDi 130

PEUGEOT

EXPERT Box (VF3A_, VF3U_, VF3X_)

2.0 HDi 130 4x4

PEUGEOT

EXPERT Box (VF3A_, VF3U_, VF3X_)

2.0 HDi 140

PEUGEOT

EXPERT Box (VF3A_, VF3U_, VF3X_)

2.0 HDi 165

PEUGEOT

EXPERT Flatbed / Chassis

2.0 HDi 120

PEUGEOT

EXPERT Flatbed / Chassis

2.0 HDi 130

PEUGEOT

EXPERT Flatbed / Chassis

2.0 HDi 140

PEUGEOT

EXPERT Flatbed / Chassis

2.0 HDi 165

PEUGEOT

EXPERT Tepee (VF3X_)

2.0 HDi 100

PEUGEOT

EXPERT Tepee (VF3X_)

2.0 HDi 120

PEUGEOT

EXPERT Tepee (VF3X_)

2.0 HDi 120 4x4

PEUGEOT

EXPERT Tepee (VF3X_)

2.0 HDi 130

PEUGEOT

EXPERT Tepee (VF3X_)

2.0 HDi 130 4x4

PEUGEOT

EXPERT Tepee (VF3X_)

2.0 HDi 140

PEUGEOT

EXPERT Tepee (VF3X_)

2.0 HDi 165

PEUGEOT

RCZ

2.0 HDi

PEUGEOT

407 (6D_)

2.0 HDi

PEUGEOT

407 Coupe (6C_)

2.0 HDi

PEUGEOT

407 SW (6E_)

2.0 HDi

FORD

GALAXY (WA6)

2.0 TDCi

FORD

GALAXY (WA6)

2.0 TDCi

FORD

GALAXY (WA6)

2.0 TDCi

FORD

S-MAX (WA6)

2.0 TDCi

PEUGEOT

407 SW (6E_)

2.0 HDi

PEUGEOT

407 SW (6E_)

2.0 HDi 135

PEUGEOT

407 SW (6E_)

2.0 HDi

PEUGEOT

407 SW (6E_)

2.0 HDi

CITROËN

JUMPY (VF7)

2.0 HDi 140

CITROËN

JUMPY (VF7)

2.0 HDi 165

CITROËN

JUMPY Box

2.0 HDi 95

CITROËN

JUMPY Box

2.0 HDi 120

CITROËN

JUMPY Box

2.0 HDi 140

FIAT

ULYSSE (179_)

2.0 D Multijet

FIAT

SCUDO Flatbed / Chassis (270_, 272_)

2.0 D Multijet

FORD

FOCUS II (DA_, HCP, DP)

2.0 TDCi

FORD

GALAXY (WA6)

2.0 TDCi

FORD

GALAXY (WA6)

2.0 TDCi

FORD

GRAND C-MAX (DXA/CB7, DXA/CEU)

2.0 TDCi

FORD

GRAND C-MAX (DXA/CB7, DXA/CEU)

2.0 TDCi

FORD

GRAND C-MAX (DXA/CB7, DXA/CEU)

2.0 TDCi

FORD

GRAND C-MAX (DXA/CB7, DXA/CEU)

2.0 TDCi

FORD

FOCUS III Turnier

2.0 TDCi

FORD

GRAND C-MAX Van

2.0 TDCi

FORD

GRAND C-MAX Van

2.0 TDCI

FORD

GRAND C-MAX Van

2.0 TDCi

PEUGEOT

807 (E)

2.0 HDI

PEUGEOT

807 (E)

2.0 HDi

PEUGEOT

407 (6D_)

2.0 HDi

PEUGEOT

307 Break (3E)

2.0 HDi 135

PEUGEOT

407 Coupe (6C_)

2.0 HDi

PEUGEOT

407 Coupe (6C_)

2.0 HDi

PEUGEOT

308 SW I (4E_, 4H_)

2.0 HDi

PEUGEOT

308 SW I (4E_, 4H_)

2.0 HDi

PEUGEOT

308 SW I (4E_, 4H_)

2.0 HDi

PEUGEOT

308 SW I (4E_, 4H_)

2.0 HDi

CITROËN

JUMPY Box

2.0 HDi 125

CITROËN

C5 II Break (RE_)

2.0 HDi (RERHRH)

CITROËN

JUMPY (VF7)

2.0 HDi 95

CITROËN

JUMPY (VF7)

2.0 HDi 125

CITROËN

JUMPY (VF7)

2.0 HDi 120

CITROËN

C4 II (B7)

2.0 HDi / BlueHDi 160

CITROËN

JUMPY Flatbed / Chassis

2.0 HDi 125

FIAT

SCUDO (270_, 272_)

2.0 D Multijet

FIAT

SCUDO (270_, 272_)

2.0 D Multijet 4x4

FIAT

SCUDO Box (270_, 272_)

2.0 D Multijet

FIAT

SCUDO Box (270_, 272_)

2.0 D Multijet 4x4

FORD

FOCUS II Convertible

2.0 TDCi

FORD

MONDEO IV (BA7)

2.0 TDCi

FORD

KUGA I

2.0 TDCi

FORD

KUGA I

2.0 TDCi 4x4

FORD

KUGA I

2.0 TDCi

FORD

KUGA I

2.0 TDCi 4x4

FORD

KUGA I

2.0 TDCi 4x4

FORD

FOCUS III Turnier

2.0 TDCi

FORD

FOCUS III Turnier

2.0 TDCi

FORD

FOCUS III Turnier

2.0 TDCi

FORD

FOCUS II Box Body / Estate

2.0 TDCi

FORD

FOCUS II Box Body / Estate

2.0 TDCi

PEUGEOT

607 (9D, 9U)

2.0 HDI

PEUGEOT

807 (E)

2.0 HDi

PEUGEOT

407 (6D_)

2.0 HDi

PEUGEOT

407 (6D_)

2.0 HDi

PEUGEOT

407 (6D_)

2.0 HDi 135

PEUGEOT

308 I (4A_, 4C_)

2.0 HDi

PEUGEOT

5008 (0U_, 0E_)

2.0 HDi 136 / BlueHDi 136

PEUGEOT

5008 (0U_, 0E_)

2.0 HDi 150 / BlueHDi 150

PEUGEOT

5008 (0U_, 0E_)

2.0 HDi

PEUGEOT

508 SW Box Body / Estate (8E_)

2.0 HDi

PEUGEOT

508 SW Box Body / Estate (8E_)

2.0 HDi

PEUGEOT

407 SW Box Body / Estate (6E_)

2.0 HDi

PEUGEOT

407 SW Box Body / Estate (6E_)

2.0 HDi
3RG : 10222, 10268
4X4 ESTANFI : EST-122-08-800
AKRON-MALÒ : 658033, 658102
AUTEX : 658033, 658347, 658481
AUTLOG : RT2908
AUTOKIT : 03.90118, 03.90210, 03.90227, 03.90264
AUTOMEGA : 130018010
AUTOTEAM : A06360, A09300
BGA : DP0426, DP8060, DP8068, DP8068K
BREDA LORETT : PSD1058/ND, PSD1124/ND
BSG : BSG 30-170-018, BSG 70-170-008
BTA : E6G0009BTA
CALIBER : 87389, 88784
CAUTEX : 081244
CONTINENTAL CTAM : VD1092, VD1129
CORTECO : 49363329, 80000426, 80004382
DA SILVA : PL8211, PL8567, PL8572
DAYCO : DPV1203
DÜRER : 82125, 82145
FAI AutoParts : FVD1024
FARE SA : 10773, 4264
FAST : FT45601
GATES : TVD1090
GATES-AU : TVD1090
HUTCHINSON : DP015
IJS GROUP : 17-1011, 17-1022, 17-1104, 17-1126
INA : 544 0097 10, 544 0097 20
IPD : 15-7028, 15-7342, 15-7476
KM International : FI15900, FI23250
LUCAS : LPD0054, LPD0244
MABYPARTS : ODP111016, ODP212036, ODP222036, PV03590O, PV79799O
MAPCO : 43360
MAXGEAR : 30-0069
Metalcaucho : 04738, 05942
MGA : DP145, DP295
NPS : P815A04
NTY : RKP-FR-012, RKP-FR-022
OPTIMAL : F8-6397, F8-7861
ORIGINAL IMPERIUM : 10212, 10242, 10507
PATRON : PP1000
QUINTON HAZELL : QCD128, QCD14, QCD85
REPKIT : RKT9118, RKT9210, RKT9227, RKT9264
RIDEX : 3213B0012
RUVILLE : 515915
SASIC : 2150003
SKF : VKM 93310
SNR : DPF359.17, DPF359.27
Stark : SKBPC-0640011
STC : T404738, T405942
STELLOX : 20-01067-SX
SWAG : 62 10 6476
TRADEX FRANCE : PV12176
TREVI AUTOMOTIVE : PC1016, PC1157
TRICLO : 421224
TRISCAN : 8643 10006, 8643 28016
UNIGOM : 421222, 421257
VAICO : V22-0011, V42-0555
WILMINK GROUP : WG1105217, WG1234386, WG1701205, WG1710225, WG1760760, WG1761056, WG1795895, WG1795896, WG1937801
If you can't find the part you need, please contact us at +33 1 41 50 53 73
Exclusive Web Offer
* This reference is given as an indication (subject to validation with the serial number and the manufacturer software)