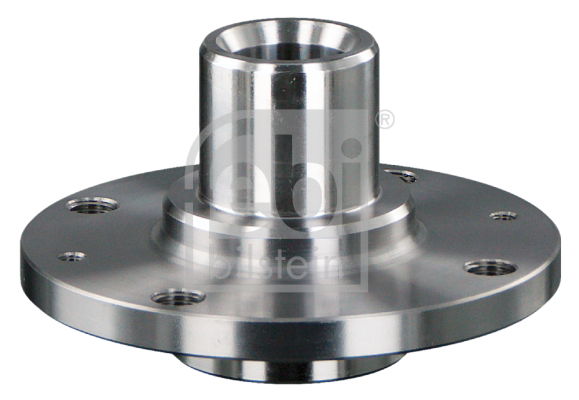 Moyeu de roue FEBI BILSTEIN 102191
Ref:
102191
[102191] FEBI BILSTEIN Moyeu de roue
FEBI BILSTEIN

Shipped within 24 to 48 hours
---
Supplementary Article/Info 2 : Without wheel bearing
Thickness [mm] : 71,0
Inner Diameter [mm] : 24,6
Outer diameter [mm] : 119,8
Pitch Circle Ø [mm] : 100
Number of Holes : 4
Fitting Position : Front Axle
Fitting Position : Front Axle left and right
Weight [kg] : 1,22
Informations générales : Les produits livrés par nos soins doivent être utilisés exclusivement à des fins pour lesquelles ils ont été con us. Le montage est réservé à un personnel qualifié formé. Les produits sont livrés en standard sans instructions de montage.
OPEL

AGILA (A) (H00)

1.3 CDTI (F68)

SUBARU

JUSTY III (G3X)

1.3 AWD

SUBARU

JUSTY III (G3X)

1.3 CDTi

SUBARU

JUSTY III (G3X)

1.5 AWD

SUZUKI

IGNIS II (MH)

1.3 4x4 (RM413)

SUZUKI

IGNIS II (MH)

1.3 DDiS (RM413D)

SUZUKI

IGNIS II (MH)

1.3 (RM413)

SUZUKI

IGNIS II (MH)

1.5 4x4 (RM415)

SUZUKI

IGNIS II (MH)

1.5 (RM415)

SUZUKI

SPLASH (EX)

1.0 (A5B 310)

SUZUKI

SPLASH (EX)

1.0 (A5B 310)

SUZUKI

SPLASH (EX)

1.2

SUZUKI

SPLASH (EX)

1.2 (A5B 412)

SUZUKI

SPLASH (EX)

1.2 LPG

SUZUKI

SPLASH (EX)

1.2 VVT (A5B 412)

SUZUKI

SPLASH (EX)

1.2 VVT (A5B 412)

SUZUKI

SPLASH (EX)

1.2 VVT (A5B 412)

SUZUKI

SPLASH (EX)

1.3 CDTI (A5B 413D)

SUZUKI

SWIFT III (MZ, EZ)

1.3 4x4 (RS 413)

SUZUKI

SWIFT III (MZ, EZ)

1.3 4x4 (RS 413)

SUZUKI

SWIFT III (MZ, EZ)

1.3 DDiS (RS 413D)

SUZUKI

SWIFT III (MZ, EZ)

1.3 DDiS (RS 413D)

SUZUKI

SWIFT III (MZ, EZ)

1.3 LPG (RS 413)

SUZUKI

SWIFT III (MZ, EZ)

1.3 (RS 413)

SUZUKI

SWIFT III (MZ, EZ)

1.5 4x4 (RS 415)

SUZUKI

SWIFT III (MZ, EZ)

1.5 4x4 (RS 415)

SUZUKI

SWIFT III (MZ, EZ)

1.5 (RS 415)

SUZUKI

SWIFT IV (FZ, NZ)

1.2

SUZUKI

SWIFT IV (FZ, NZ)

1.2

SUZUKI

SWIFT IV (FZ, NZ)

1.2 (AZG 412)

SUZUKI

SWIFT IV (FZ, NZ)

1.2 (AZH 412)

SUZUKI

SWIFT IV (FZ, NZ)

1.2 VVT

SUZUKI

SWIFT IV (FZ, NZ)

1.3 DDiS (AZG 413D)

SUZUKI

SWIFT IV (FZ, NZ)

1.6 (AZG 416)

SUZUKI

SWIFT IV (FZ, NZ)

1.6 (AZG 416, AZH 416, RS416)

VAUXHALL

AGILA Mk II (B) (H08)

1.0 12V

VAUXHALL

AGILA Mk II (B) (H08)

1.0 i

VAUXHALL

AGILA Mk II (B) (H08)

1.2 i 16V

VAUXHALL

AGILA Mk II (B) (H08)

1.2 i 16V

VAUXHALL

AGILA Mk II (B) (H08)

1.3 CDTI

OPEL

AGILA (B) (H08)

1.2 (F68)

OPEL

AGILA (B) (H08)

1.0 LPG (F68)

OPEL

AGILA (B) (H08)

1.2 LPG (F68)

OPEL

AGILA (B) (H08)

1.0 (F68)

OPEL

AGILA (B) (H08)

1.0 (F68)

OPEL

AGILA (B) (H08)

1.2 (F68)

OPEL

AGILA (B) (H08)

1.3 CDTI (F68)

SUZUKI

WAGON R+ Hatchback (MM)

1.3 DDiS (RB 413D)
If you can't find the part you need, please contact us at +33 1 41 50 53 73
Exclusive Web Offer
* This reference is given as an indication (subject to validation with the serial number and the manufacturer software)