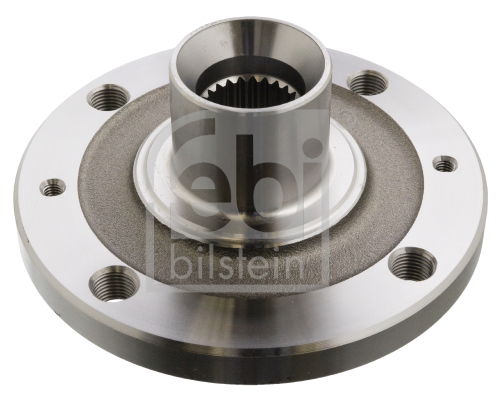 Moyeu de roue FEBI BILSTEIN 102189
Ref:
102189
[102189] FEBI BILSTEIN Moyeu de roue
FEBI BILSTEIN

Shipped within 24 to 48 hours
---
Supplementary Article/Info 2 : Without wheel bearing
Thickness [mm] : 67,0
Inner Diameter [mm] : 25,7
Outer diameter [mm] : 129,5
Pitch Circle Ø [mm] : 108
Number of Holes : 4
Fitting Position : Front Axle left and right
Weight [kg] : 1,55
Informations générales : Les produits livrés par nos soins doivent être utilisés exclusivement à des fins pour lesquelles ils ont été con us. Le montage est réservé à un personnel qualifié formé. Les produits sont livrés en standard sans instructions de montage.
PEUGEOT

PARTNER Box

1.6 Flex

CITROËN

BERLINGO (B9)

1.6 HDi 75 / BlueHDi 75

CITROËN

BERLINGO (B9)

1.6 HDi 90

CITROËN

BERLINGO (B9)

1.6 HDi 90

CITROËN

BERLINGO (B9)

1.6 VTi 120

CITROËN

BERLINGO (B9)

1.6 VTi 95

CITROËN

BERLINGO / BERLINGO FIRST Box (M_)

1.4 bivalent

CITROËN

BERLINGO / BERLINGO FIRST Box (M_)

1.6 HDI 90 (MB9HX, MC9HX)

CITROËN

BERLINGO / BERLINGO FIRST Box (M_)

Electric

CITROËN

BERLINGO / BERLINGO FIRST MPV (MF, GJK, GFK)

1.4 bivalent

CITROËN

BERLINGO / BERLINGO FIRST MPV (MF, GJK, GFK)

1.4 i (MFKFX, MFKFW, GJKFWB, GJKFWC, GFKFWC)

CITROËN

BERLINGO / BERLINGO FIRST MPV (MF, GJK, GFK)

1.6 16V (MFNFU)

CITROËN

BERLINGO / BERLINGO FIRST MPV (MF, GJK, GFK)

1.6 HDI 75 (MF9HW, GJ9HWC, GF9HWC, GN9HWC)

CITROËN

BERLINGO Box (B9)

1.6

CITROËN

BERLINGO Box (B9)

1.6

CITROËN

BERLINGO Box (B9)

1.6 HDi 110

CITROËN

BERLINGO Box (B9)

1.6 HDi 75

CITROËN

BERLINGO Box (B9)

1.6 HDi 90

CITROËN

BERLINGO Box (B9)

1.6 VTi 120

CITROËN

BERLINGO Flatbed / Chassis (B9)

1.6 BlueHDi 100

CITROËN

BERLINGO Flatbed / Chassis (B9)

1.6 HDi 90

CITROËN

BERLINGO Flatbed / Chassis (B9)

1.6 HDi 90 16V

CITROËN

C3 II (SC_)

1.6 BlueHDi 75

CITROËN

C4 Grand Picasso I (UA_)

1.6 16V

CITROËN

C4 Grand Picasso I (UA_)

1.6 16V

CITROËN

C4 Grand Picasso I (UA_)

1.6 HDi

CITROËN

C4 Grand Picasso I (UA_)

1.6 HDi 110

CITROËN

C4 Grand Picasso I (UA_)

1.6 THP 155

CITROËN

C4 Grand Picasso I (UA_)

1.6 VTi 120

CITROËN

C4 Grand Picasso I (UA_)

1.8 i 16V

CITROËN

C4 Grand Picasso I (UA_)

1.8 i 16V CNG

CITROËN

C4 Grand Picasso I (UA_)

1.8 i 16V Flex

CITROËN

C4 Grand Picasso I (UA_)

2.0 HDi 138

CITROËN

C4 Grand Picasso I (UA_)

2.0 HDi 150

CITROËN

C4 Grand Picasso I (UA_)

2.0 HDi 165

CITROËN

C4 Grand Picasso I (UA_)

2.0 i 16V

CITROËN

C4 Grand Picasso I (UA_)

2.0 i 16V

CITROËN

C4 Picasso I MPV (UD_)

1.6 16V

CITROËN

C4 Picasso I MPV (UD_)

1.6 HDi

CITROËN

C4 Picasso I MPV (UD_)

1.6 HDi 110

CITROËN

C4 Picasso I MPV (UD_)

1.6 THP 140

CITROËN

C4 Picasso I MPV (UD_)

1.6 THP 155

CITROËN

C4 Picasso I MPV (UD_)

1.6 VTi 120

CITROËN

C4 Picasso I MPV (UD_)

1.8 Bifuel

CITROËN

C4 Picasso I MPV (UD_)

1.8 i 16V

CITROËN

C4 Picasso I MPV (UD_)

2.0 HDi 138

CITROËN

C4 Picasso I MPV (UD_)

2.0 HDi 150

CITROËN

C4 Picasso I MPV (UD_)

2.0 HDi 165

CITROËN

C4 Picasso I MPV (UD_)

2.0 i 16V

CITROËN

XSARA PICASSO (N68)

1.6

CITROËN

XSARA PICASSO (N68)

1.6 16V

CITROËN

XSARA PICASSO (N68)

1.6 16V LPG

CITROËN

XSARA PICASSO (N68)

1.6 Flex

CITROËN

XSARA PICASSO (N68)

1.6 HDi

CITROËN

XSARA PICASSO (N68)

1.6 HDi

CITROËN

XSARA PICASSO (N68)

2.0 16V

CITROËN

XSARA PICASSO (N68)

2.0 16V

CITROËN

XSARA PICASSO (N68)

2.0 HDi

CITROËN

XSARA PICASSO (N68)

2.0 HDi

PEUGEOT

PARTNER Box (5)

1.6 HDi 90

PEUGEOT

PARTNER Box (5)

1.9 D

PEUGEOT

PARTNER Combispace (5F)

1.6 16V

PEUGEOT

PARTNER Tepee

1.6 HDi 16V

PEUGEOT

PARTNER Box

1.6 BlueHDi 120

PEUGEOT

PARTNER Box

1.6 HDi 16V

PEUGEOT

PARTNER Box

1.6 HDi / BlueHDi 75

CITROËN

BERLINGO Box (B9)

1.6 HDi 90 16V

CITROËN

BERLINGO Box (B9)

1.6 VTi 95

CITROËN

BERLINGO Box (B9)

1.6 HDi 115

CITROËN

BERLINGO Box (B9)

Electric

CITROËN

BERLINGO Box (B9)

Electric

CITROËN

BERLINGO Box (B9)

1.6 BlueHDi 100

CITROËN

BERLINGO Box (B9)

1.6 BlueHDi 120

CITROËN

BERLINGO Box (B9)

1.6 HDi / BlueHDi 75

CITROËN

BERLINGO Box (B9)

1.6 HDi 90

CITROËN

BERLINGO Box (B9)

1.6 HDi 90 4x4

CITROËN

BERLINGO Box (B9)

1.6 BlueHDi 100 4x4

CITROËN

BERLINGO Box (B9)

1.6 HDi 115 4x4

PEUGEOT

PARTNER Tepee

1.6 HDi

PEUGEOT

PARTNER Tepee

1.6 VTi

PEUGEOT

PARTNER Tepee

1.6 HDi 16V

PEUGEOT

PARTNER Tepee

1.6 HDi

PEUGEOT

PARTNER Tepee

1.6 VTi

PEUGEOT

PARTNER Tepee

1.6 VTi

PEUGEOT

PARTNER Tepee

1.6 HDi

PEUGEOT

PARTNER Tepee

1.6 VTi

PEUGEOT

PARTNER Tepee

1.6 HDi

PEUGEOT

PARTNER Tepee

1.6 HDi

PEUGEOT

PARTNER Box

1.6 HDi 16V

PEUGEOT

PARTNER Box

1.6 HDi

PEUGEOT

PARTNER Box

Électrique

PEUGEOT

PARTNER Tepee

1.6 BlueHDi 100

PEUGEOT

PARTNER Tepee

1.6 BlueHDi 120

PEUGEOT

PARTNER Tepee

1.6 HDi / BlueHDi 75

PEUGEOT

PARTNER Tepee

1.2 THP

PEUGEOT

PARTNER Tepee

1.6 BlueHDi 100 4x4

PEUGEOT

PARTNER Box

1.6

PEUGEOT

PARTNER Box

1.6 Flex

PEUGEOT

PARTNER Box

1.6 HDi 90

PEUGEOT

PARTNER Box

1.6

PEUGEOT

PARTNER Box

1.6

PEUGEOT

PARTNER Box

1.6 HDi

PEUGEOT

PARTNER Box

1.6 HDi

PEUGEOT

PARTNER Box

1.6 BlueHDi 100

CITROËN

BERLINGO (B9)

1.6

CITROËN

BERLINGO (B9)

1.6

CITROËN

BERLINGO (B9)

1.6 HDi 75 16V

CITROËN

BERLINGO (B9)

1.6 HDi 110

CITROËN

BERLINGO (B9)

1.6 HDi 110

CITROËN

BERLINGO (B9)

1.6 HDi 115

CITROËN

BERLINGO (B9)

1.6 BlueHDi 100

CITROËN

BERLINGO (B9)

1.6 BlueHDi 120

CITROËN

BERLINGO (B9)

1.2 PureTech 110

CITROËN

BERLINGO Box (B9)

1.6 HDi 110

PEUGEOT

PARTNER Tepee

1.6 VTi Flex

PEUGEOT

PARTNER Tepee

1.6 HDi 90

PEUGEOT

PARTNER Tepee

1.6 VTi

PEUGEOT

PARTNER Box

1.6

PEUGEOT

PARTNER Box

1.6 HDi

PEUGEOT

PARTNER Flatbed / Chassis

1.6 HDi

PEUGEOT

PARTNER Flatbed / Chassis

1.6 HDi 16V

PEUGEOT

PARTNER Flatbed / Chassis

1.6 HDi
If you can't find the part you need, please contact us at +33 1 41 50 53 73
Exclusive Web Offer
* This reference is given as an indication (subject to validation with the serial number and the manufacturer software)