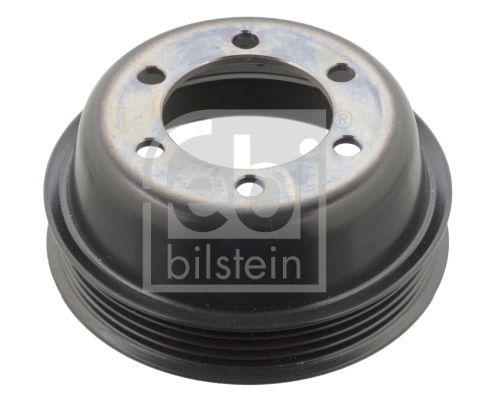 Poulie, vilebrequin FEBI BILSTEIN 102045
Ref:
102045
[102045] FEBI BILSTEIN Poulie, vilebrequin
FEBI BILSTEIN

Shipped within 24 to 48 hours
---
Supplementary Article/Info 2 : For crankshaft
Width [mm] : 44,0
Inner Diameter [mm] : 43,0
Outer diameter [mm] : 104,0
Weight [kg] : 0,4
Number of ribs : 4
Informations générales : Les produits livrés par nos soins doivent être utilisés exclusivement à des fins pour lesquelles ils ont été con us. Le montage est réservé à un personnel qualifié formé. Les produits sont livrés en standard sans instructions de montage.
PEUGEOT

BOXER Bus (244, Z_)

2.0 HDi

PEUGEOT

BOXER Bus (244, Z_)

2.2 HDi

PEUGEOT

BOXER Flatbed / Chassis (244)

2.0 HDi

PEUGEOT

BOXER Flatbed / Chassis (244)

2.2 HDi

PEUGEOT

BOXER Box (244)

2.2 HDi
3RG : 10212, 10213, 10236, 10244
AKRON-MALÒ : 658016, 658044, 658139
AUTLOG : RT1622, RT1874, RT2622, RT2910
AUTOKIT : 03.90028, 03.90069, 03.90076, 03.90338
AUTOMEGA : 130091110, 130091610, 130091710
AUTOTEAM : A06272, A06528, A06544
BGA : DP0598, DP1019, DP1176, DP1765, DP3151
BREDA LORETT : PSD1013ND, PSD1018ND, PSD1279ND
BSG : BSG 70-170-003, BSG 70-170-007
BTA : E6C0005BTA, E6C0006BTA, E6C0007BTA, E6P0002BTA
CALIBER : 87353, 87459, 87466
CORTECO : 49418919
DA SILVA : PL8196, PL8203, PL8602
DAYCO : DPV1029, DPV1151
DIAMAX : A9005
DÜRER : 82118, 82129
ESEN SKV : 95SKV306, 95SKV310
ET ENGINETEAM : PC0003
FARE SA : 13708, 4217, 4261, 4291
FAST : FT45566
FLENNOR : FL4559-J
IJS GROUP : 17-1016, 17-1036, 17-1036SET, 17-1059, 17-1061
INA : 544 0058 10, 544 0058 20, 544 0085 10
JP GROUP : 4118300200, 4118300500
KAMOKA : RW021
KM International : FI15680, FI16320, FI16360
LUCAS : LPD0023, LPD0031, LPD0053
MABYPARTS : ODP212063, ODP212103, OPK212063, PV79790O
MAPCO : 43359, 43362
MAXGEAR : 30-0028
MGA : DP140, DP144, DP155
NPS : P815A01, P815A03
ORIGINAL IMPERIUM : 10002, 10002K, 10214, 10288, 10288K, 10395
OSSCA : 05664, 10395
PATRON : PP1004
PROCODIS FRANCE : DAM2036, DAM2036V, DAM2044, DAM2044V
QUATTRO FRENI : QF51A00005
QUINTON HAZELL : QCD108, QCD15, QCD198
REPKIT : RKT9028, RKT9069, RKT9076, RKT9338
RIDEX : 3213B0051, 3213B0080
RUVILLE : 515832, 515905
SASIC : 2150002, 2150032
SNR : DPF359.01, DPF359.05
Stark : SKBPC-0640051, SKBPC-0640080, SKBPC-0640121
STC : T404442, T404477, T406230, T414442, T414477
STELLOX : 20-01019-SX, 20-01020-SX, 20-01040-SX
SWAG : 62 10 2045
TRADEX FRANCE : PV12146
TREVI AUTOMOTIVE : PC1030, PC1092, PC1093
TRICLO : 421210, 421217, 421229, 421281
UNIGOM : 421216, 421236, 421236D, 421259, 421261
WILMINK GROUP : WG1054849, WG1084305, WG1084329, WG1152589, WG1152594, WG1254383, WG1254400, WG1432889, WG1432921, WG1432922, WG1701446, WG1701467, WG1755463, WG1760766, WG1760951, WG1890014
If you can't find the part you need, please contact us at +33 1 41 50 53 73
Exclusive Web Offer
* This reference is given as an indication (subject to validation with the serial number and the manufacturer software)